Hail Protection Covers
PERMA PROTECT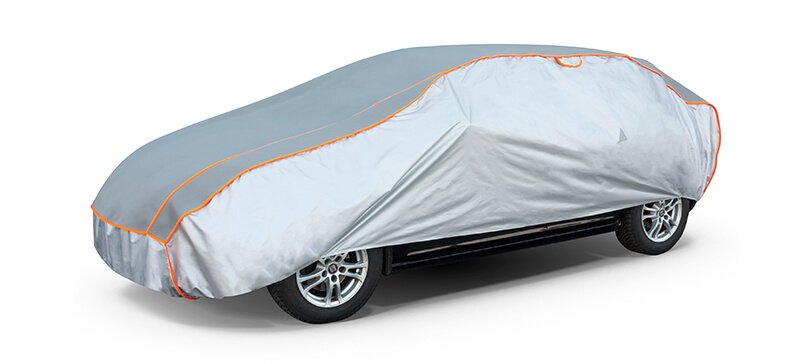 Protects against hailstones up to 700 mm3
Hailstones up to 11 mm diameter
Material thickness: 4 mm foam material
Layers: 3
Total thickness: approx. 5 mm
The basic hail protection for your vehicle
Weatherproof and waterproof top layer
4 mm neoprene foam material
Inner surface gentle on paintwork
Premium Hybrid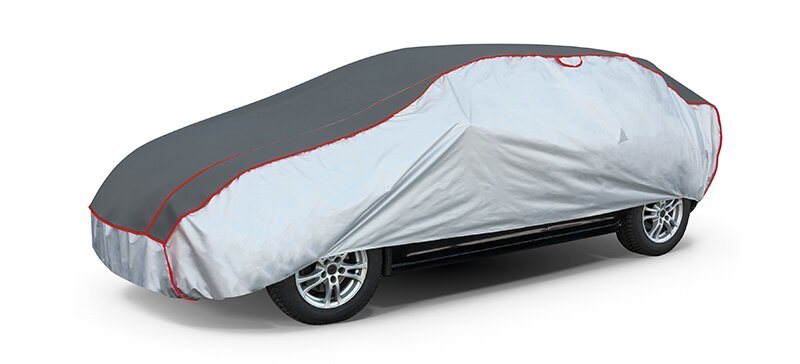 Protects against hailstones up to 1400 mm3
Hailstones up to 14 mm diameter
Material thickness: 4 mm + 3 mm hybrid foam material
Layers: 4
Total thickness: approx. 8 mm
The premium hail protector for your vehicle
100% waterproof top layer
7 mm hybrid foam material with
4 mm soft hail absorption layer
3 mm tough penetration protector
Inner surface gentle on paintwork
Hybrid UV Protect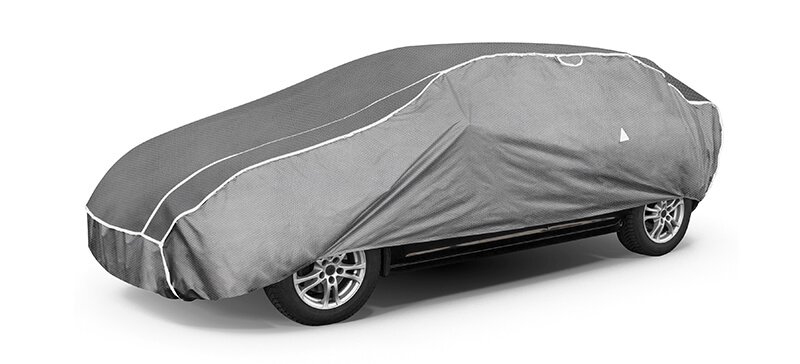 Protects against hailstones up to 1400 mm3
Hailstones up to 14 mm diameter
Material thickness: 4 mm + 3 mm hybrid foam material
+ 3-layer, waterproof UV protection membrane
UV protection
Layers: 6
Total thickness: approx. 8 mm
Incl. elastic strap set for storm-proof fixing
Tested: Highly resistant to UV exposure throughout the year, as shown in 500 h weathering test
Deluxe hail protector cover for use all year round
3-layer, waterproof UV protection membrane
Special 7 mm hybrid foam material with
4 mm soft hail absorption layer
3 mm tough penetration protector
Inner surface gentle on paintwork
Why buy a WALSER hail protector cover?
Ideal protection against hailstones up to approx. 14 mm and 70 km/h impact speed
Our product finder lets you choose the ideal hail protector cover for your car
Free shipping and fast and reliable delivery on all our hail protector covers
Fully tested for hail protection under controlled conditions
Top quality products from Europe's leading manufacturer of hail protector covers
All-round service package with assembly videos, folding instructions and additional fastening straps
Our hail protector covers come out top in consumer comparisons and are recognised for their excellent workmanship and the best protection against hail
WALSER has been a preferred supplier of car accessories for over 40 years
WALSER - the leading manufacturer of hail protector covers
Many vehicle owners do not have their own garage and don't have anywhere to park their car safely. When heavy clouds are gathering, there is a real danger to your vehicle if it is parked outside, in your private parking space. Hailstones of varying sizes can cause major damage to paint and bodywork. When it happens, it can result in unsightly dents, scratches and cracks in paintwork.
Protected from hail at all times, even away from home
For peace of mind, it makes sense to protect your car from outside weather influences wherever you are. That is why there is an extremely practical solution for vehicle owners that is always available for hail protection, even when away from home. Hail protector covers are easily pulled over your vehicle and provide effective protection against hailstorms, so that the paintwork of your car can no longer be damaged. WALSER offers first-class hail protector covers made from high-tech materials, to give you peace of mind when your car is parked outside, even in the worst hailstorm.
Hail protector covers for virtually all vehicle models
Our hail protector covers protect your vehicle from hailstorms, just like a garage. That's why we often refer to it as a "hail protection garage". It is made from waterproof material. Furthermore, the cover is easy to clean and has an inner surface that is gentle on paintwork.
In our Product Finder you will be able to see the correct size match for virtually all vehicles on the market. Simply choose the right size for your car. When selecting the size, take full account of any additional vehicle attachments, such as rear and roof spoilers or a bicycle rack, as these are not included in the size match. To be absolutely certain, compare the sizes of the hail protector covers with the dimensions given in your vehicle manual.
Low maintenance and effective protection against hail
WALSER is Europe's leading manufacturer of hail protector covers. Our range is recognised for the excellent workmanship and the many positive product properties. Premium quality to provide protection for your vehicle against hail means a high-tech foam layer, up to 8 mm thick, wrapped around your car just like a second skin. Protection that pays off each summer: When a hailstorm threatens, mount the cover as described in the user instructions for optimum protection for your car. It is advisable to remove the cover relatively soon after the storm and dry it carefully in the shade, before storing it in the multi-function storage bag provided. If you have chosen the Deluxe Hybrid UV Protect model, you can fix it on the vehicle again after this drying phase, as it is suitable for all-year-round use.
Hail protection covers
for: