Innovations
| | |
| --- | --- |
| Our development team is constantly following the latest trends in the market and developing them for your benefit to produce innovative products. One of our greatest and most important innovations is the WALSER Clix airbag system: a special system that allows the side airbag to deploy without restriction when required. In addition, we have developed several patents, such as the Zipp-It zip fastener system, the hybrid foam sheet of the Premium Hybrid hail protection cover and the Slot mounting rail. | |
The WALSER CLIX airbag system
WALSER seat covers combine maximum safety with high quality and comfort. As a manufacturer of car seat covers, we have developed a system for seat covers that does not restrict the safety in your car. The WALSER CLIX airbag system is a special tear seam on the side of the seat cover, which allows for the correct opening and free deployment of the side airbag, thus retaining the full functionality of the life-saving properties of the airbag. For most of the WALSER seat covers, this system is first tested by the TÜV Group in a secure environment through test firing the airbag, and if the result is positive then approved with a certification mark.
Here you can see an unrestricted and correct deployment of a side airbag:
The Zipp-It system
When installing a seat cover, one or two problems often arise when pulling the cover on. This is where the patented WALSER Zipp-It system provides the ideal solution. This zip fastener system is integrated into the seat cover, considerably simplifying installation and virtually removing the need for unsightly cuts in the material. This technology therefore offers you, as the customer, a clever and elegant solution for installing car seat covers.
The system consists of two opposite running zip fasteners for each required opening of the seat cover. An example is the headrest mounting. Here the seat cover can be simply pulled over the seat and then the headrest can be reinstalled using the zip fastener openings provided. The zip fastener can then be closed virtually up to the headrest support, thus providing a neat finish. The same system is also available for the side lever of the front seat and at each step in installing the rear seat cover.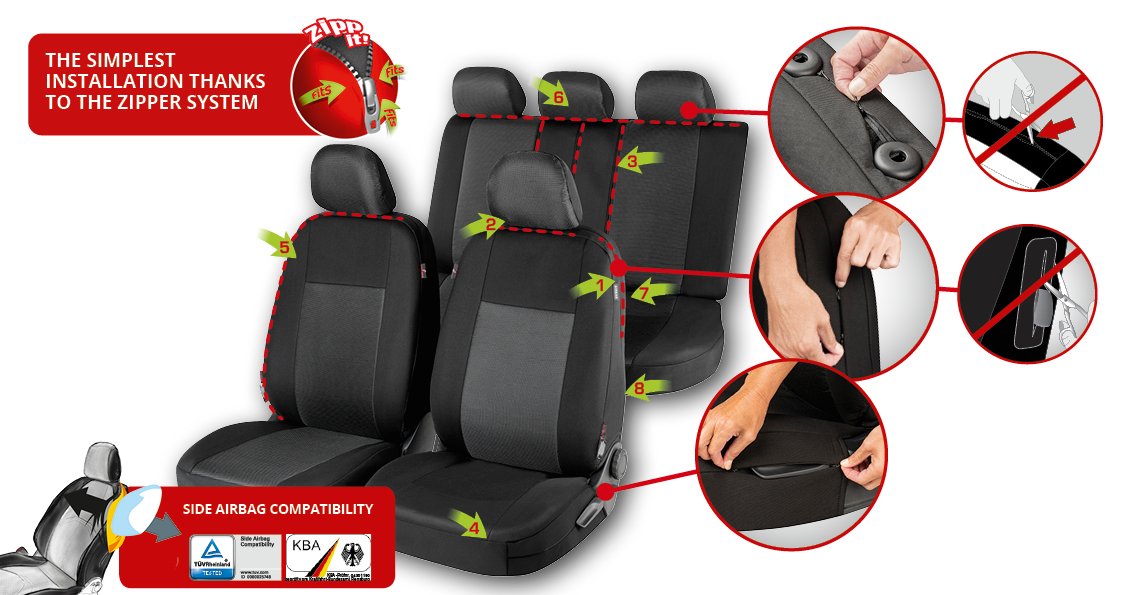 Patented hybrid foam
For our hail protection cover Premium Hybrid a very high-quality and patented hybrid foam sheet material has been developed specially produced for us. The foam is made of two layers: a soft layer, approximately 4mm thick, for optimum absorption of hailstone impacts and a hard foam layer, approximately 3mm thick, for penetration protection. Thus, the patented 7mm hybrid foam sheeting provides particularly good hailstone absorption and penetration protection so that this product development protects your car from hail damage.